Studio B. Severin's approach to design starts from deep cultural and anthropological research, followed by a process of developing objects that aim to answer several sociological questions. This French-German duo of Birgit Severin and Guillaume Neu-Rinaudo aims to create 'narrative objects that reflect about past and present while opening up to alternative futures'. MEMORIES OF A FLOWER MEADOW is a project focused on bringing awareness to endangered flowers in Germany. It is a collection of 22 vases filled with regional wildflower seeds of the same country.
The Beginning
Birgit Severin: As a child, my mother would tell me stories about her childhood. She drew pictures in my mind, describing her observations. One was about her way home from school where she had to cross wheat fields. In summer, when they turned yellow, blue cornflowers would be blossoming all over them. Often she would stop, fill her lungs consciously with fresh air, and watch the straws moving in the wind. Growing up in a city myself, I rather felt detached from this type of environment. As a result, I would start envisioning Van Gogh's painting in motion to her stories. Unconsciously, however, she may have planted the seed in my mind to explore nature as an artist and designer.
MEMORIES OF A FLOWER MEADOW
Birgit Severin: In 2018 I spent the summer in the countryside of Thuringia. For four weeks, together with 11 other artists and designers, I had been invited to work and explore porcelain as part of a workshop at "KAHLA".
Staying at a small farm, I would start my day with a morning run – up the hill, through a very small forest, and along with never-ending fields. As far as my eyes could reach endless only oats, wheat, and corn. But the color spectrum was rather limited – shades of green and yellow covered by a mostly blue or white sky. Nowhere did I see the bright blue of cornflowers my mother had told me about, nor the intensive red of corn poppy which I Iove myself. Having just escaped the busy streets of Berlin, these surroundings felt to me like nature. But what I was looking at was highly industrialized agriculture. Nature rather had lost its right and freedom to exist in this environment. How, when, and why did this happen? Driven by my curiosity I wanted to understand the connections and consequences.
Project Influences
Birgit Severin: Susanne Dohrn's book "Das Ende der Natur" (The End of Nature) became in the following weeks my guidebook to exploring the topic of declining biodiversity in ceramics. The book describes how farmers are constantly increasing their cultivated areas, eliminating wild herbs, and fertilizing the fields with liquid manure. Furthermore, instead of growing a wide variety of crops, more and more maize, rape, and winter cereals are being grown for biogas production and as fodder for factory farming – all in huge monocultures that leach the soil. Where field weeds are being controlled and eliminated, insects and birds lack food, the results are declining biodiversity at a speed that we can observe the consequences in front of our eyes.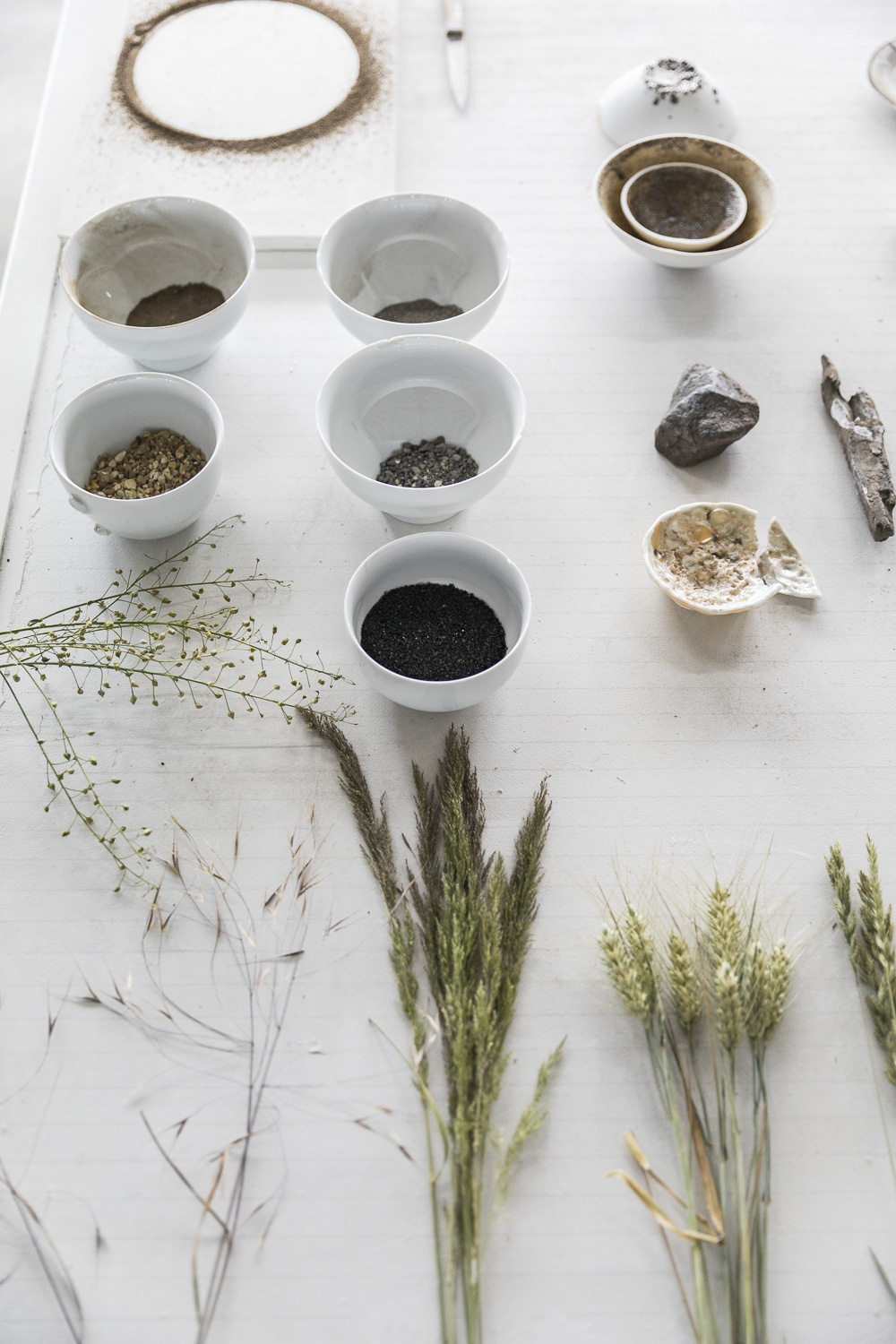 Birgit Severin: While exploring, experiencing, and witnessing these changes I started diving into my creative practice. Kahla has a very popular porcelain service with aquarelle drawings of wildflowers. Looking at each flower, and identifying their species, I discovered that almost 50% of them are endangered kinds. What at first sight appears as a nice and pleasing decor are representations of species future generations may never encounter in real life. My first answer to this discovery was the creation of a color pallet based on the rural environment.
The decline and disappearance of flowers reduce this pallet dramatically. But I felt the urge not to stay merely critical. Changes have to come and we can make them happen. Starting with conscious food or traveling choices as well as reflecting and being aware of one's own needs. Active engagement does not mean sacrifices, when implementing them we can experience how they can bring joy – like planting flowers, watching them grow, and
enjoying their blossoming while contributing to their distribution and providing nutrition for other species. With this vision in mind, the idea for "'Memories of a Flower Meadow' was born. The project consists of a collection of 22 vases filled with regional wildflower seeds for which I collaborated with seed manufacturer "Saaten Zeller". As an open call for action, the intention is to raise awareness for: "you reap what you sow" – in a literal and metaphorical sense.
Further than that, I kept on experimenting and exploring. With the book as a guideline, I dived into the topic of milk production concerning agriculture and economics. With dumping prices for farmers and supermarkets filled with cheap diary products, this nutritious liquid has lost all of its value. The consequences are far-reaching from impacting the environment, through high levels of CO2 emission, and land/water use, to social aspects due to falling milk prices in developing countries such as West Africa. With "White
Gold – White Trash" I used milk as glaze, burning it in a fire for merely decorative purposes, aiming to question our relationship to food.
Main Challenges
Birgit Severin: The biggest challenge in projects like these is to find the right balance between free experimentation and theoretical research. Both have to happen in dialogue – one enriching the other. When the mind takes over it becomes hard to execute and create while giving too much freedom to material exploration can lead away from the thematic intentions. I see my profession as what could be described as a "thinking hand". Aiming to strengthen this connection I currently dive into meditation to connect body and mind. I am very curious about how this interest will affect my work as a designer.
Studio B. Severin
Birgit Severin: Having talked so much about myself until now, I would like to introduce Guillaume NeuRinaudo at the end. He is my partner in work and life. While I am often the one pushing themes and concepts he guides my thoughts and makes final aesthetic decisions. Due to this requirement of Kahla, we were unable to work physically together on this project. However, since 2017 we are both running 'studio b Severin'. Our aim is to create objects which express a holistic worldview based on research that explores the connections between culture and society (humans) with the environment (natural or man-made). While nature is a recurrent theme and source of inspiration our main intention is to contribute to a better understanding of our surroundings as active agents in shaping our thoughts.
Through this approach, we aspire to give rise to the development of a more social and sustainable world.
Interview with Birgit Severin | Studio b severin. Photography: Matthias Ritzmann and Studio B. Severin.